The digital landscape of the internet is evolving rapidly, and the content generated by Artificial Intelligence (AI) or AI in SEO has become the talk of the town. Can AI Content Rank on Google? Every single person is questioning the uniqueness of AI-generated content, can AI replace human writers? Or can AI-generated content be able to rank among Google's top rankings?
Google is one of the top premiers when it comes to generating high-quality, relevant results for its users. It is known for its unique search engine concept of E-A-T: Expertise, Authoritativeness, and Trustworthiness. Google works with the principle of best-written data, but when it comes to AI-generated content, there are a lot of rules and regulations. With the correct usage of rules and alignments, AI-generated content can also make its way up to SERP.
Google's Take on AI-Generated Content
Google is ranked as one of the top search engines because of its reliable result that goes through a critical evaluation process. When they reach the audience, results are refined in terms of keywords, writing guidelines, and visuals. Therefore, this justifies Google's strict take on AI-generated content and its ranking among SERP. 
According to its policies, using any AI-generated content is the same as manipulating Google itself as a search engine. Google values human-generated and unique content more than effortless articles. Hence, it does not allow AI-generated content to appear in searches. It also flags such articles and moves them into spam as a violation of Google policies.
Rules & Regulations for AI-Content Generation
Writers relying on AI content creation should not overlook Google's guidelines and strict policies. Similarly, every platform, such as social media handles, third-party guest posting, contribution sites, and several other websites, has its standards that also align with those of Google.
A mix of AI and human Creativity
The best way to generate top-ranked AI content is to balance the use of AI tools and human creativity. Google shows leniency towards realistic and less AI-generated-looking content.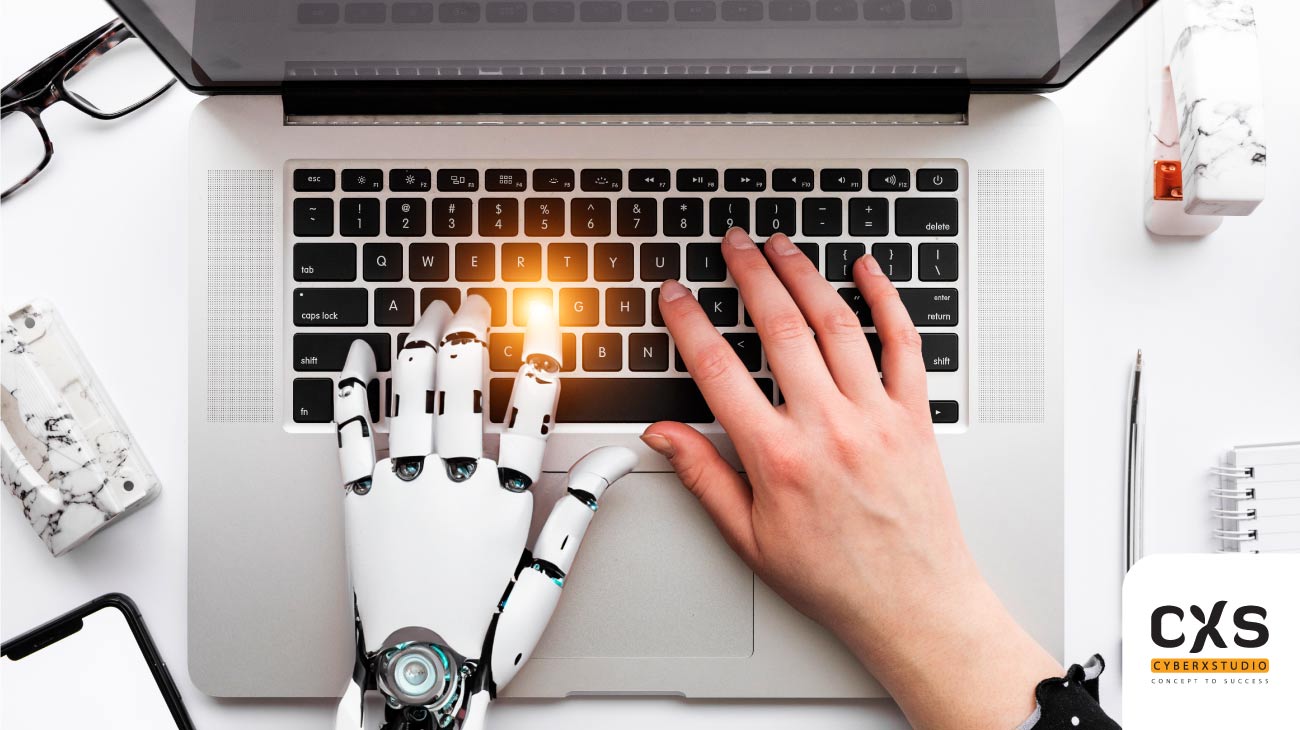 Ethical and Moral Responsibility
Content creators should look for personalization, engaging, and factual information before uploading any AI-generated content. AI tools are based on algorithms that are driven by a machine and are less likely to spot the difference between duplicated and plagiarized content. This negligence can bring both copyright claims and legal consequences. Hence, content creators should critically review their writings to comply with Google policies.
Factors Influencing AI-generated Content Rankings
Artificial Intelligence (AI) tools are shaping the trends of writing with their swift content generation. Nowadays, they are used for content creation for blogs, journalism stories, translating audio files, predicting sports scores, and much more. However, when used with proficiency and intelligence, Google can rank AI-generated content.
Google has a lot of policies and rules for ranking its content on top, whether the content is human-written or AI-generated. The factors applied to human-written content are also implemented in AI-generated content. There are a lot of algorithms and factors to analyze the rank it best on the webpage's rankings: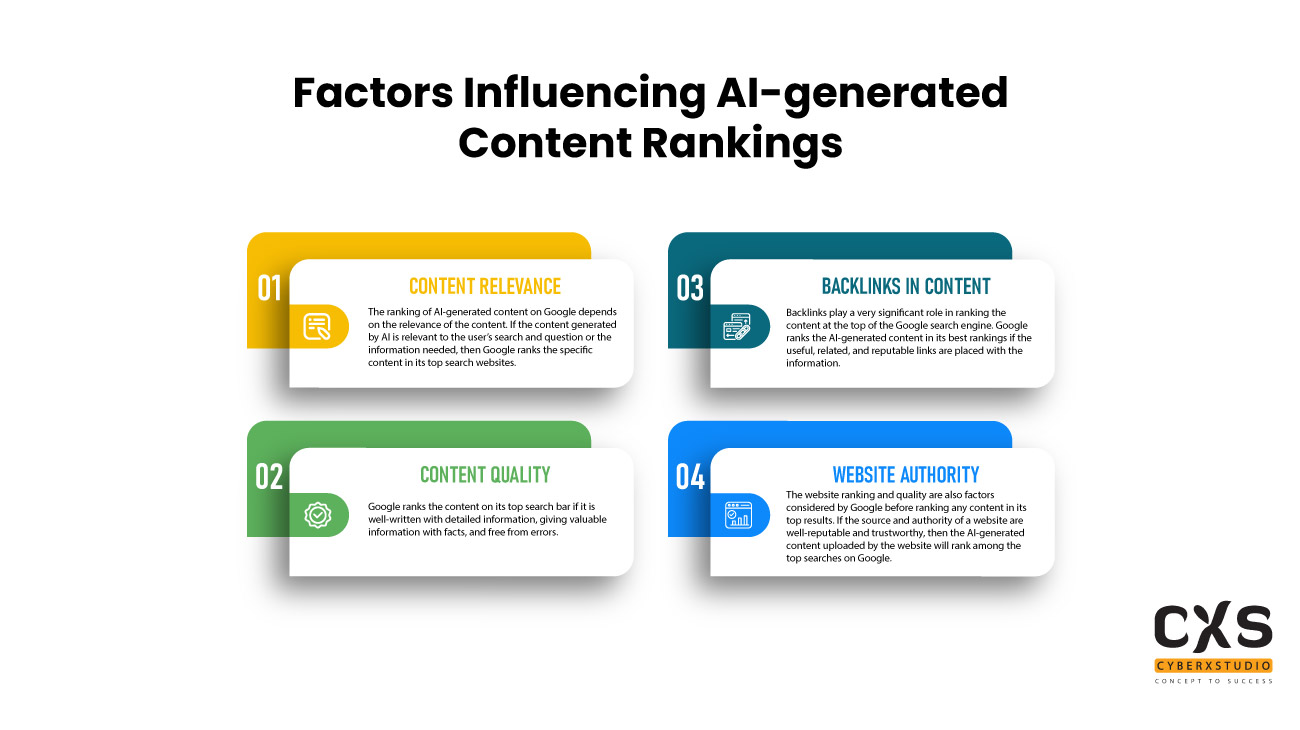 Content Relevance
The ranking of AI-generated content on Google depends on the relevance of the content. If the content generated by AI is relevant to the user's search, intent, and question or the information needed, then Google ranks the specific content in its top searches. Furthermore, the content that receives more traffic is also allowed to rank.
Backlinks in Content
Link building play a significant role in ranking the content at the top of the Google search engine. Along with the quality of content, Google also cross-checks its credibility. Here, backlinks and external links play a deciding role as useful, relevant, and credible links lead AI-generated content to top search results. 
Content Quality
Among other checks, the quality of the content is the most important, which refers to research and reference incorporation, good grammar, relevant language, use of synonyms, and several other checks. Quality is among the priorities as it can lead to both lead conversion and audience drop-off. If the content is well written based on research, valuable information, user-friendly language and tone, and error-free writing, it holds a high chance of ranking on Google. Not to forget, this applies to both AI and human-generated content, but currently, these tactics are used for the former in the category. 
Website Authority
The website ranking and quality are also factors considered by Google before ranking any content in its top results. If the source and authority of a website are well-reputable and trustworthy, then the AI-generated content uploaded by the website will rank among the top searches on Google.
The Competitive Benefits of AI-generated Content
In a fast-paced world where every business is in a continuous tussle to improve its digital presence and attract and convert more audience, AI is serving as an accelerator. Self-learning algorithms, worldwide knowledge reach, and swift result delivery are some of its plus points. AI and ML enable professional writers as well as a layman to produce quality content with accurate, updated, and credible information. They further help find top-trending topics and attractive writing styles for unique and well-written content.
Moving further, AI-generated content enables businesses, irrespective of their size, to improve their search engine ranking through quality articles based on Google's policies. More benefits of AI-driven content generation include the following:
Productivity & Speedy Generation
AI can generate high-quality content within seconds, saving the writer's time to manage other tasks. It browses through global sources and automatically produces articles, blogs, social media posts, and every other piece of content. 
Content Generation in Multiple Formats
In addition to content creation, AI allows creators to choose from different formats and writing styles. Hence, calling AI an all-rounder in producing quality, diverse, and multidimensional content won't be an overstatement. Furthermore, content creators can also alter the tone, language, and intent according to their target audience and business niche.
Personalized and Customized Content
With AI's automated and self-learning ability, writers can generate different types of customized articles. They can create both short and long-form content with different word limits and user preferences. Hence, proficiency, quality, right prompts, and necessary human effort can lead AI-generated content to high Google rankings.
Enhancing SEO with AI Content
Machine Learning (ML) and Artificial Intelligence (AI) driven techniques are currently among the greatest tech powers in the digital world. Where it is reshaping content generation, these tools are enhancing SEO, its application, and performance alike. With the right prompts and complete information fed to them, AI-powered software aids in content optimization based on relevant and high-ranking keywords. Hence, by harnessing the power of AI and ML, content creators and AI SEO experts can direct, engage, and retain high traffic towards websites. 
While AI is a relief, it can also cause disruption such as artificial, fancy, and irrelevant content. In the worst-case scenario, it can lead to claims, backlash, and legal consequences. Therefore, AI and ML can be left on their own and SEO experts should keep an eye on what type of content is about to publish. Similarly, content creators also can not escape this responsibility and must cross-check the intent, language, and quality of content. Collectively, these efforts lead to enhanced SEO and improved search engine ranking.
Conclusion
The use of Artificial Intelligence (AI) is creating new ways of generating content without errors, saving a lot of manpower, resources, and employees' potential. However, this technology is not 100% accurate, which increases content creators' moral responsibility to cross-check what they have produced. Hence, blind use of AI can compromise user experience and brand worth.
A smart use of AI can save both creators and businesses from consequences. Giving detailed and explained prompts and reviewing AI-generated content can unveil wonders in the content creation niche of digital marketing, ultimately leading businesses to rank in top Google results.
Content Creation and Marketing with CyberX Studio
AI is the new norm and has been transforming the digital marketing world since its advent. In terms of content creation, businesses can not compromise any backlash, flagging, or objection from Google. CyberX Studio is here to help with a unique mix of human efforts combined with a little touch of AI. We ensure our clients get creative, unique, and attractive content that will not compromise their brand worth. Our writers research industry trends, competitors, and Google updates to ensure your content is ranked high among search results.