A social media platform is home to more than 3.4 billion active users and is considered the main source for generating eCommerce traffic. The easiest and most convenient way to attract new business is to get more and more eyes to your website. In other words, to increase your sales you got to have a solid strategy for growing your online audience.
After agreeing that social media is a great source in bringing ample opportunities to gain business companions and convert into leads. We will highlight some useful tips that would certainly help you increase click-throughs and enhance your social media referral metrics.
Optimize your social media profile
Your profile in social media can play a significant role in brand building and recognition. It has been witnessed that a good social media profile can drive a good amount of traffic to your webpage. Optimizing your profile on social media is equally important as optimizing your website's SEO.
Social media profiles can be an excessive asset to brand awareness. But do remember that for an optimized website, an updated social media profile with an accurate set of keywords and information is quite essential.
Include referral links on your social media profiles
Every social media profile has a small section that is allocated for presenting yourself to your followers. It's generally under the heading of "bio" (on Twitter, TikTok, or Instagram) or "about section" (on LinkedIn, Facebook, or YouTube) where you can easily include the link to your webpage.
This will help your viewers know where to go if they want to see more from you, enabling traffic to your page.
However, it is not possible on every social media platform. For instance, you can only include a single link on your TikTok or Instagram profile. A good solution to this problem could be connecting to a dedicated landing page, where you can list numerous valuable links. This facility is offered by platforms such as Later's Linktree,  Linkin, bio, and Tap the link. Or you can simply generate your landing page on your site.
Every social media user wishes to have a good list of followers. Posting frequently on your social media can surely help you enhance a great social media marketing strategy. As per our research and stats, various social media platforms have different posting frequencies.
The minimum posting frequency on Twitter is 15 tweets daily
The minimum posting frequency for Facebook is one post daily
The minimum posting frequency on Instagram is 1-2 posts weekly
You have to measure and match the best possible frequency with your viewers. You can even observe the posting frequencies of numerous other brands and your competitors. This would help you to clearly define your frequency to raise your social media engagement.
Every social media user can very well relate to the word 'viral'. Anything you find exceptional, unique, enticing, or relatable has the audacity to increase the traffic. Though Viral contents are quintessential to drive more traffic to your web page, it is not an easy task. You have to admit the fact that not every post can be viral and to have viral content, it is important that
People should incline to share your content
People should spread your message to hit the maximum audience
Furthermore, there are some ways through which your content can go viral which are:
Memes: Memes can prove to be a good source to viral your content since generally, people dig into content that contains humor or hilarious memes. Some are amusing videos, gifs, or even images having secure and firm messages with some funny
You can easily incorporate these kinds of memes into your text, ensuring that you use them for publicity and entertaining. Try to avoid any sensitive issues that may get in the way of your brand identity or that may stir any controversy.
Content that Appeals to Human Senses: You must have noticed that any food or recipe video is taking over social media by storm. These types of 'salivating' videos will surely want any viewer to have more and more. By seeing these we deduced that appealing to human senses is the key objective of these videos, and they affect the human sense like:
Sight: videos with lively, vibrant colors and effects
Smell: imagining the scent or aroma of spices
Hearing: upbeat music
Taste: mouthwatering recipes
Touch: when your mouth touches these mouthwatering food
Use content techniques that encourage click-throughs
The way you display your social media visuals and the text you are using in your content can also help to increase your social media referrals. Find some good techniques so that your content can increase your viewer's curiosity and leave them wanting more. Here are some ways to do
Create a hook: Hook your spectators with something interesting, like an exciting headline or the first part of a story, let them know that they can discover more on your webpage. This will surely compel them to click-through
Use emotions: Any provocation or emotional messages that hit your audience's emotions will lead them to be expressively involved and want to remain engaged with your content.
Add a CTA: A simple yet effective way to inspire social media followers is to add a short and clear call-to-action (CTA) connecting it to your webpage in your posts.
         Click on this link to get more exciting tips on Digital marketing
10 Incredible Digital Marketing Tips & Tricks to Boost Small Businesses
Which Social Network Drives the Most Traffic
This would not surprise you that Facebook typically drives around 60% of all the traffic coming from the search engine since it has 2.2 billion monthly active users. But Facebook is not the top source of social traffic for each website, some other social media platforms are playing their due roles.
When also took a #SEJSurveySays poll question on Twitter and the result stated
62% responded that Facebook brought in the maximum traffic to their website.
22% said that their page received the most traffic from Twitter.
10% choose LinkedIn as the highest traffic-driving social platform for their website.
6% managed to achieve in getting social traffic from Pinterest.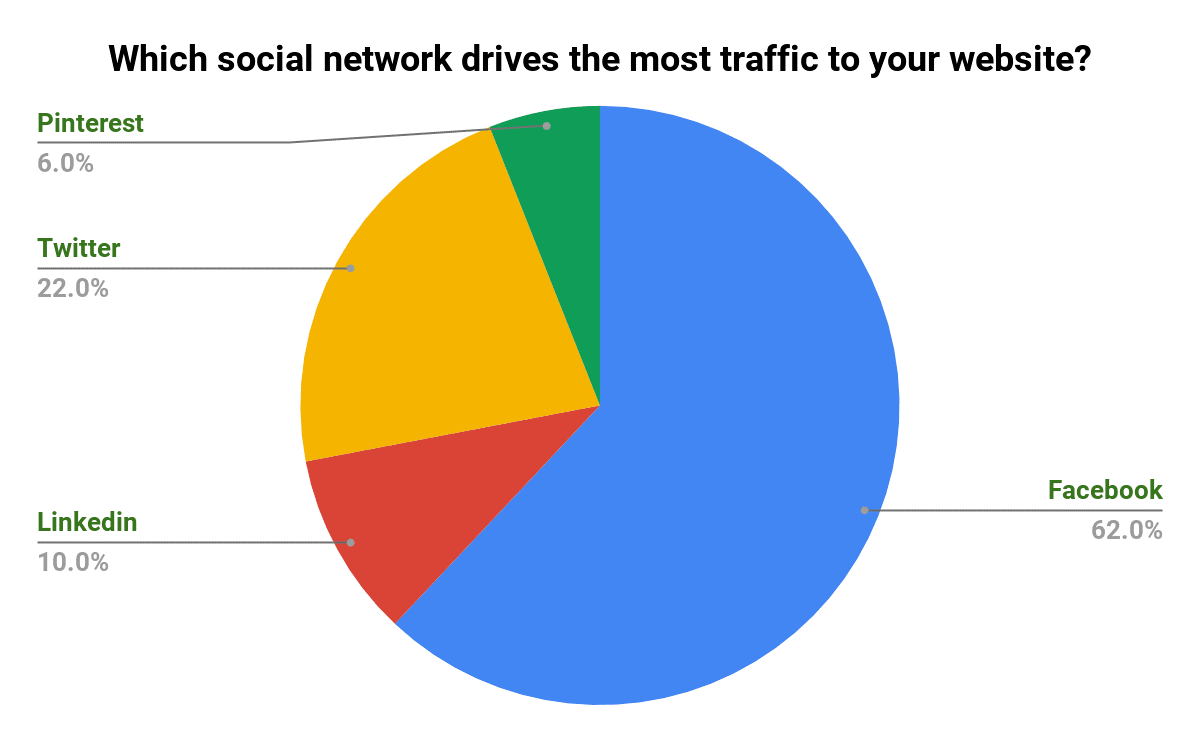 Persistence and Patience are the two ultimate keys that keep your social media alive.   Social media marketing approaches are indeed value-add-on and excessive, but they do take time to come into effect. These proven approaches are sure to reap paybacks in the long term. Remember, social media can only be a game-changer if you use it the accurate way.