In a rapidly evolving digital landscape, the internet is the solution to every query, confusion, and concern. From 5-minute hacks and keeping pace with fashion trends to exploring international topics, businesses heavily rely on Search Engine Optimization (SEO) to rank and reach the audience before their competitors. 
However, the techniques for ranking among the top on search engine results pages (SERPs) are changing. Businesses that fail to secure a place among 10 – 15 top results are more likely to lose traffic, visibility, and ultimately, their growth. Not anymore, as Artificial Intelligence (AI) takes over traditional and conventional SEO strategies. 
Keep reading and delve into the expanding world of AI and how its roots are spreading in SEO optimization.
How AI is Changing SEO Landscape? 
AI SEO refers to the transition of traditional SEO techniques into automated, self-driven, and swift website optimization. The technological landscape has not stopped tossing innovative ways for organizations to progress and prosper cost-effectively, and AI-based SEO is an outcome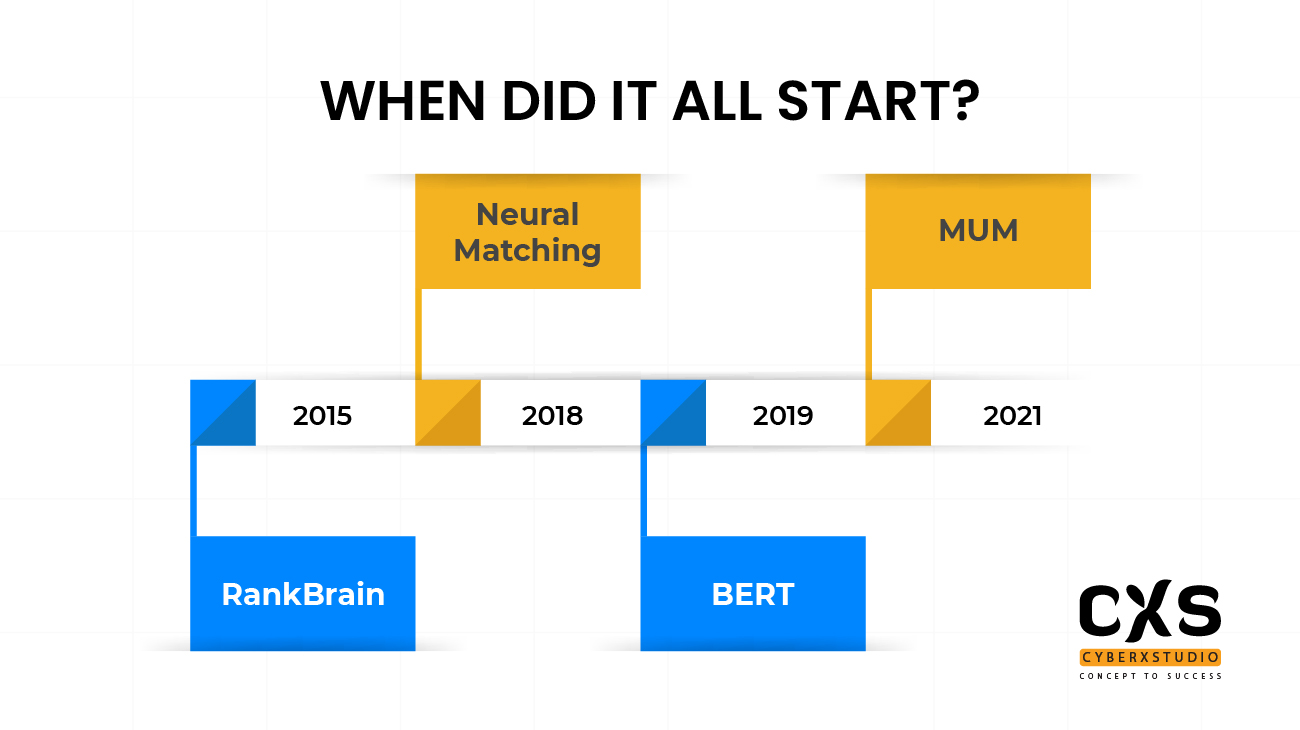 When Did It All Start?
Google is said to be the mastermind behind the integration of AI in search when it first introduced RankBrain in 2015. It was a Machine Learning (ML) led system used to process, evaluate, and analyze search results along with their ranking. In order to better link words with concepts, Google came up with another discovery in 2018 named Neural Matching. 
Following the same year, SpamBrain was introduced to watch and identify hazardous content and prevent it from appearing in search results. In 2019, there was BERT to understand varying intents and meanings of different word combinations. 
Later in 2021, Google exposed MUM to search, a 1000x more powerful technology relying solely on AI and natural language processing to produce more results than any previous discoveries.

Unveiling the Applications of AI in SEO 
Calling AI the "mimic version of human intelligence" won't be an overstatement. The purpose of this technological innovation was to swiftly, accurately, and transformatively duplicate tasks humans perform. Similar to other domains, such as automated social media and email marketing, this burgeoning technology has also taken over SEO. 
Read along to explore the areas in SEO that AI has partially or completely hijacked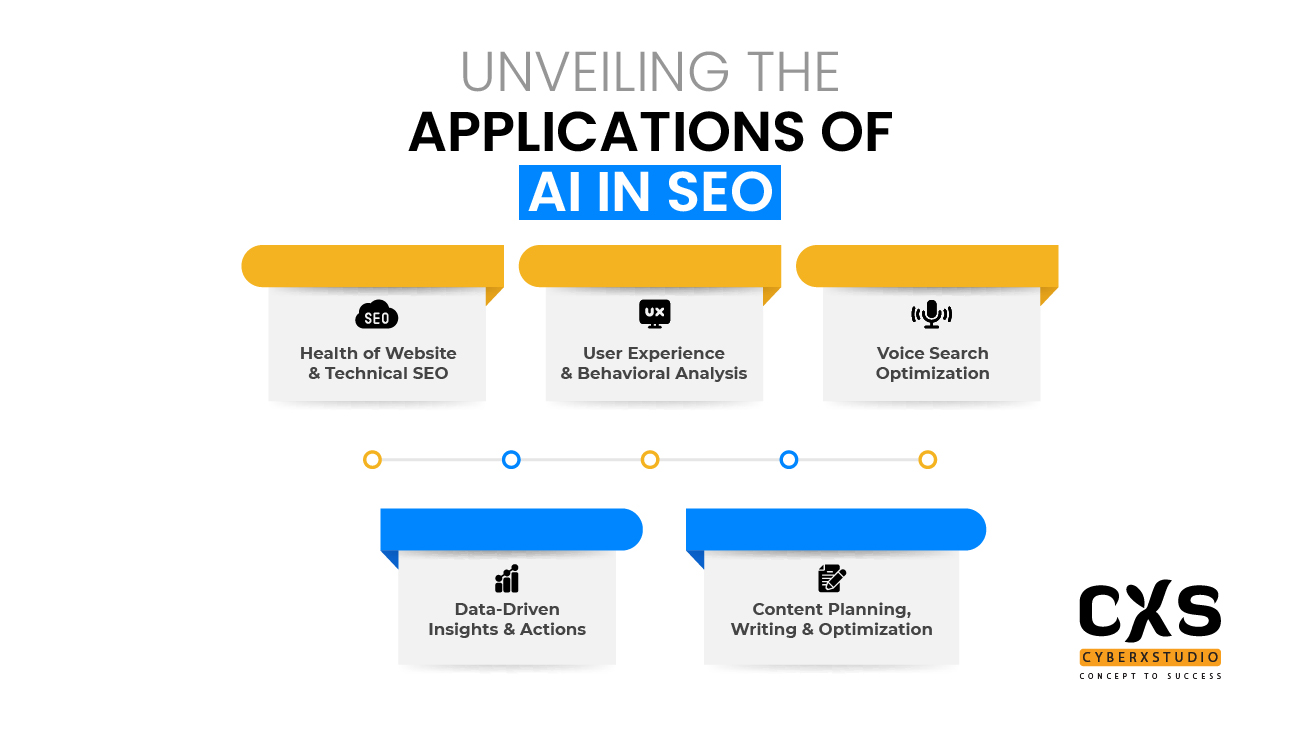 Health of Website and Technical SEO
Technical SEO is behind the website optimization process to improve its search engine rank. It involves a variety of tactics to make search engine spider crawling easier, resulting in effective website indexing and organic ranking improvement. For decades, experts have been using manual technical SEO. As of today, AI for SEO has replaced them with automated, swift, and more effective techniques. 
Following are the areas in technical SEO where AI is rapidly spreading its roots.
Mobi

le Compatibility and Optimization
According to BankMyCell statistics, there are currently 6.92 billion smartphone users, making up 85.82% of the world's population. Evidently, in today's digitally advanced world, audiences prefer visiting a website on their mobiles to skip the hassle of turning on their desktops or laptops. AI SEO ensures that websites are accurately optimized to load and function on cell phones with enhanced search visibility. 
AI turns out to be a more effective solution for website audits. Where manual examination can take up to 40 to 60 hours, AI SEO audit cuts down the time. In addition to this, AI SEO optimization also provides regular audits to detect and flag issues such as content duplication, broken and spammy links, and slow page speed. This way, website owners can address issues that raise negative consequences and affect ranking. 
Data-Driven Insights and Actions 
The AI's bespoke ability to process, analyze, and evaluate an abundant quantity of data swiftly and accurately has replaced the traditional SEO techniques, which involve manual keyword research, images and URL optimization, content creation, and ranking improvement strategies. In contrast, the former gathers data from a multiverse of sources. AI SEO defines user behavior, search engine ranking techniques, and competitors' activities while underlying the tactics to outperform along with the ones to be avoided. 
Decision-making derived from AI-driven data analysis is the new norm for website owners to fine-tune relevant and required ranking strategies that aid in outperforming their competitors.
User Experience (UX) and Behavioral Analysis
AI continues to toss unexpected innovations in the digital world, among which personalization on the basis of user behavior is the most intriguing. Within SEO, AI does not solely focus on improving website optimization and search engine ranking but extends to understanding and memorizing user behavior. 
After analyzing their search histories, stay time on one post, and repeated search preferences, it personalizes their feeds with tailored results. 
Content Planning, Writing, and Optimization
When it comes to improving and enhancing a website's ranking, keyword-studded content is the key. With applications of artificial intelligence, SEO-based content writing has taken many twists and turns. The availability of Chat GPT-3 and other such software is giving manual creators a tough time. So much so, AI ensures high production of quality content that is not only engaging but also well-optimized to regin on search engine results. 
Voice Search Optimization 
Voice search has emerged as an innovative way to look for desired content, e-commerce websites, videos, and many other types of browsing. This alternative approach, fueled by Alexa, Google Assistant, and Siri, to type and search profoundly impacts long-in-use SEO techniques. In contrast, AI SEO empowers website owners to align and produce content that enhances their visibility during voice search. 
SEO and AI – A Run-Down of Strategies and Result Analysis 
Being prone to technical faults or result errors, AI can not be considered 100% accurate. Therefore, businesses and website owners need to follow the following strategies to keep a check on the integration of AI SEO software and the results it has so far produced.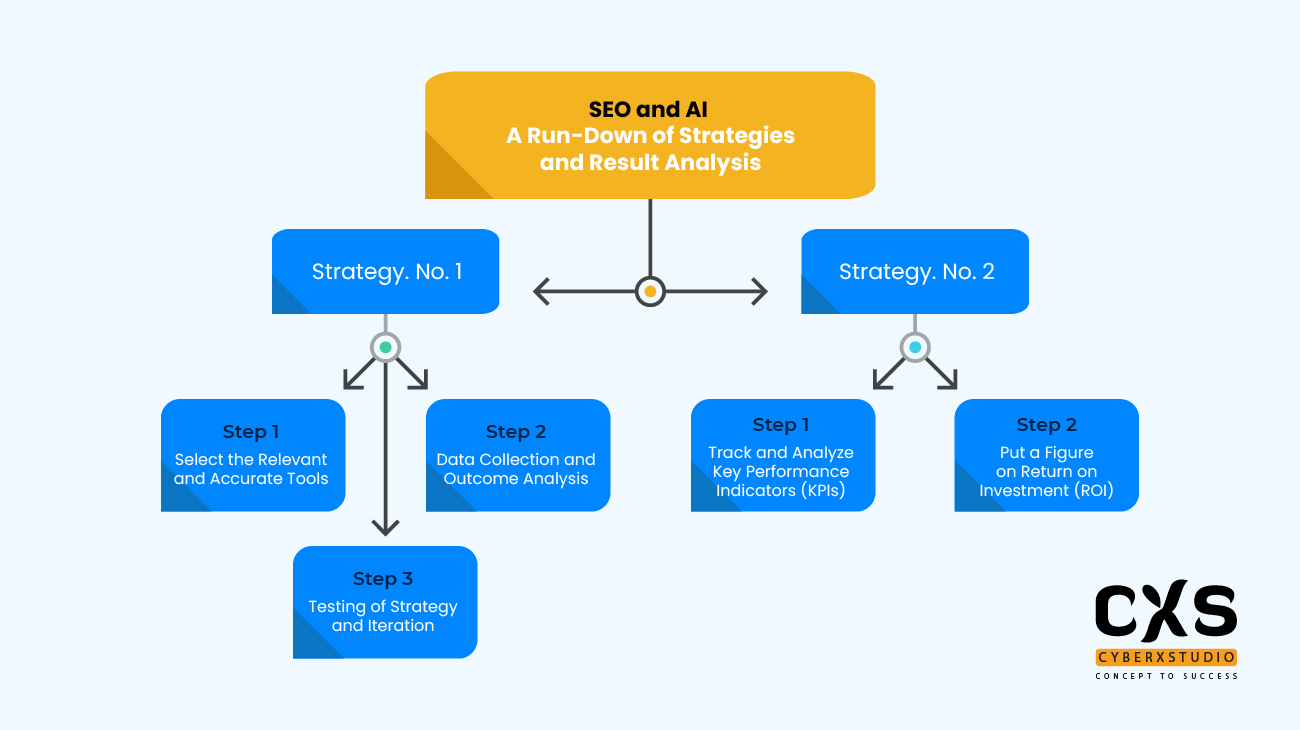 Strategy. No. 1 
Step 1: Select the Relevant and Accurate Tools
With the availability of zillions of AI SEO tools in the market, such as Jasper, Byword, Wordlift, and many others, make sure you pick the one that suits your website functionality and business goals. 
Step 2: Data Collection and Outcome Analysis
If you want to harness the ever-increasing power of AI-powered SEO tools, continuously monitor traffic, bounce rate, keyword ranking, and search engine result improvements. Customize the tools' functionality if needed to increase efficiency. 
Step 3: Testing of Strategy and Iteration 
Evaluate and monitor the impact of different strategies after implementing them on your website through a data-driven approach. 
Strategy. No. 2
Step 1: Track and Analyze Key Performance Indicators (KPIs)
To evaluate the performance of AI SEO strategies, track KPIs such as organic traffic, conversation rate, bounce percentage, and keyword ranking. 
Step 2: Put a Figure on Return on Investment (ROI)
AI's bespoke ability drives worldwide traffic while cutting down bounce rate leading to a progressive ROI. Implementing AI SEO strategies in website optimization makes ROI directly proportional to their outcomes. However, website owners should cross-compare organic search traffic with the expenditure involved in AI SEO strategies implementation for accurate results. 
Summarizing How CyberX Studio Steps in?
As evident by the facts and figures from every domain within the AI in digital marketing industry, AI has taken the reins. At CyberX Studio, we keep pace with every innovation and heavily invest in our services to combine SEO with AI and deliver the X factor for your website's success and improved SERP ranking. Our AI SEO solution is a complete suite that comes with exceptional keyword ranking, organic traffic conversion, and visibility improvement services. 
Amidst the evolution of SEO algorithms, let's collaborate to take your business to unspoken heights in the world of search engine ranking.