Unless you live under a rock, you have overlooked almost every type of Google Ad in plain sight. Everyone has a favorite 'type' when it comes to music, food, clothing, cuisine, and everything else. These 'types' are used by businesses to create Google Ads and grab your attention to convert you into their potential client. However, due to the varying purposes of these ads, businesses find it challenging to pick the right one. 
From search, text, and call-only to dynamic and discovery ads, every type has a different purpose and should be used accordingly. Google Ads service provides multiple options and types to help advertisers grow their business globally.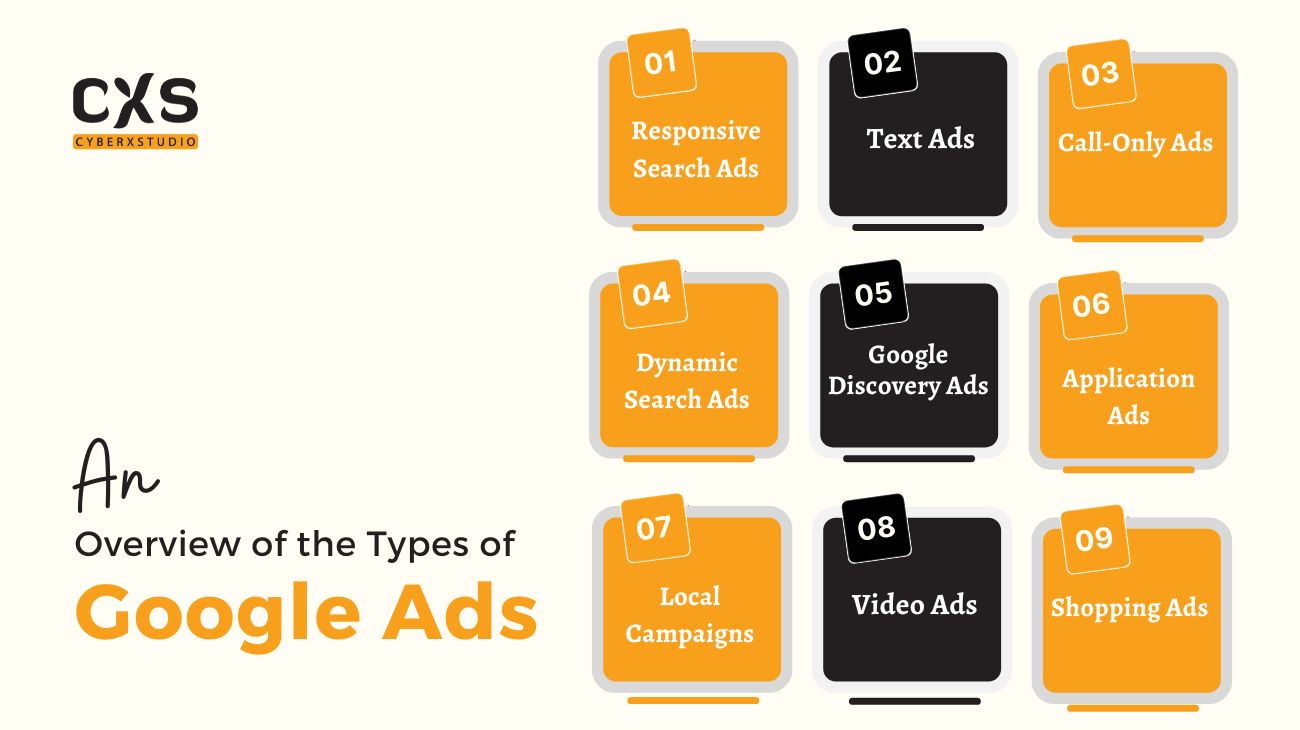 An Overview of the Types of Google Ads
Google Ads is one of the two largest marketing channels, including Instagram and Facebook, and comparatively the most consistently profitable for businesses regardless of their size and niche. There are nine different types of Google Ads serving varying purposes. They are discussed below:
Responsive Search Ads
These are one of the most prominent types of Google Ads offering multiple headlines and descriptions. It increases an ad's performance and reaches a global audience. Responsive Search Ads offer advertisers the flexibility to rank on different search queries of their target audience. This practice also allows Google to choose the ad according to different search queries by users.
It tests several combinations and automatically detects the most responsive one from the user's perspective.
Text Ads
This type of Google Ads is as old as digital marketing itself. It is the most common and simple type of Google Ads, consisting of a single headline ranging up to 30 characters, two detailed lines, and a URL. They are the most commonly used type of Google ads to promote services, content, and products. It consists of keywords that attract users when they search for specific queries.
Text Ads provide the option of direct control over changing the context of ads whenever needed. It can be modified at any time according to the requirements.
Call-Only Ads
These Ads work best for professional services companies, brick-and-mortar stores, and other such businesses. Call-only ads are specially designed Google Ads type to support organizations that are more focused on contact through phone and are targeting older demographics who prefer direct calls instead of filling out an online form.
Call-Only Ads display a phone number, a headline, and a content description. When the user clicks on these advertisements, they direct redirect them to placing a call through SERP. In order to write a result-driving copy, use relevant keywords to target high-intent searchers. Also, use your location and other specific features like services or solutions to boost the lead generation process.
Dynamic Search Ads (DSA)
Among the types of Ads in Google, Dynamic Search Ads (DSA) are the most professional and ideal. These are similar to Responsive Search Ads, but you do not provide the assets such as headlines, text, etc. Rather, Google decides it itself by using the content available on your website. Google pulls the content regarding your services or solutions that matches the searchers' queries, creates a clear headline, and displays it in front of the end user.
One another flexibility it offers is that an advertiser doesn't need to add any target keywords. Google automatically detects ads and keywords based on the content, products, or services. Hence, the quality and nature of the published content on your website directly affect the lead generation process and bounce rate.
Google Discovery Ads
The visually rich advertisements are known as the Google Discovery Ads. These are displayed on YouTube, Gmail, and Google apps with a single or carousel of posts. Google Discover Ads are among the most preferred types of Google search ads due to their high probability of converting more leads. Visual copies grab and retain the audience's attention more quickly, and attractive designs are sure to convert them into buyers.
Google Discovery Ads are most common when it comes to understanding target audience behavior, displaying personalized content, products, and services, and meeting increasing user interest.
Application Ads
This type of Google Ads is designed to promote mobile applications and increase their downloads. This ad campaign helps app developers reach the audience looking for an application like theirs. Google displays app ads on different channels, including YouTube, within applications, Google Play, Search Results, and much more.
Google App Ads display compelling content, headlines, features, and images of the app to convert more leads and increase downloads. They target the specific audience according to their location, age, gender, and interests.
Local Campaigns
These Google Ads Campaigns target local businesses and promote their online services tied to a specific area or location. Some examples are food delivery from a nearby restaurant, hair salon deals, ticket booking platforms, hotels, tourist places, and much more. It displays the contact information, details, and ratings other customers give.
Local campaigns make your ads the first thing end users see when searching for a relevant service in that locality.
Video Ads
Commonly known as YouTube ads, these are shown before or during a video. The most widely used type in this category is the pre-roll advertisements with a duration of around 10 – 15 seconds or up to 3 minutes. Generally, video ad campaigns are associated with several impressions, but mostly, businesses use these to spread brand awareness by targeting a specific set of keywords.
Shopping Ads
Google shopping ads are the most relevant to e-commerce businesses to show their products directly and on top in Google Search Results. They can be about anything from shoes, clothing, home accessories, and electronics to everything. Once the end-user clicks on these ads, they redirect them to the corresponding page.
These types of Google Ads are the more enticing because they can understand customer preferences and interests by focusing on the right intent terms. Hence, businesses can convert more leads.
Breakdown of the Advertising Process Using Google Ads
Google is the most prominent search engine used by billions of users across the globe. While it offers credible search results for end-users, it also enables businesses to reach there through multiple methods. Google ads are the most prominent among them, and their diverse types and reach are another add-on for businesses offering different services.
More results and lead generation in less duration and budget are the main reasons for its preference as a result-driven advertising channel. Google Ads rely on three components: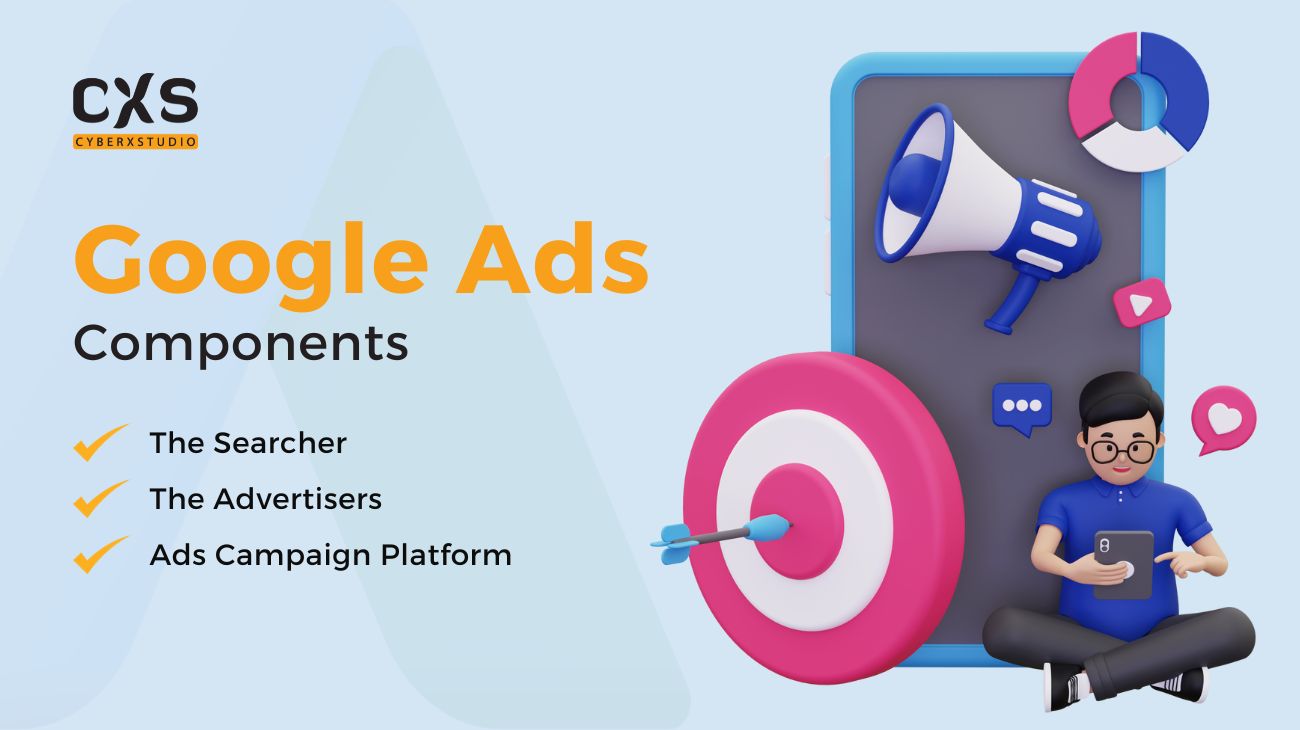 The Searcher: this refers to the audience, their preferences, and interests that businesses want to target and sell their services, products, or solutions.
The Advertisers: these are the personnel that plan, run, and monitor ad campaigns. They decide the budgets, formats, and types of Google ads, and analyze results.
Ads Campaign Platform: not every platform is suitable for businesses. They should select the right platform for their ad campaigns, such as Google or YouTube, depending on their services and type
Concluding Remarks
Google Ads Accounts are the best tool for marketing purposes. Google Ads platform offers the benefits of wide reach, target audience, direct outcome details, and long-term campaigns according to the needs of the desired industry and location. Google, as well as YouTube, enable businesses, regardless of their size, to boost brand awareness, leads generation, traffic conversion, sales, and ultimately ROI. 
Don't Think, Choose CyberX Studio for Successful Ad Campaigns
CyberX Studio is a one-stop centre for all your marketing needs. We offer expert and result-driven Google ads campaigns to rank your business among the top search results. Our experts are well aware of all types of Google Ads algorithms, industry trends, and innovations and what will work best for you. Contact Us today for affordable Google Ads services that will skyrocket your website and application traffic.
Encountering issues while setting up a new Google Ads account? Explore solutions in our latest blog post.