The mighty search engine giant Google is the leading platform for businesses to grow their client base. With an expansive reach, it directs around 8.5 billion searches on average per day. However, Google has some set protocols and practices to rank websites among top results and help them reach wider audiences. These particularly include ad campaigns.
Formerly known as Google AdWords, Google ads are a widely used method to increase brand awareness and audience reach globally. It helps businesses to advertise their services and products to potential dream buyers in a cost-effective way. Google ads enable advertisers to monitor real-time traffic, generate high leads, and increase their online presence. 
This article is a step-by-step guide on how to set up a Google ads account.
Guidelines to Create Google Ads Account
Businesses of today strive to maintain and retain an online presence for building clientele and in this race, Google AdWords is their trusted partner. By using this professional tool, they can ramp up their lead generation process and receive immediate Return on Investments (ROI).
Setting up a Google Ads account is not a difficult task, but before you begin, keep the following points in mind:
To run a campaign, you will have to create a Gmail account which will be interlinked to your other Google Ads profile. If you already have one, directly sign in with the credentials. An existing Gmail account is one way to smooth the Google Ads account creation process.
Next, you will need a website URL to promote your goods, products, or services and direct the audience to your page. If you do not have a website, you can still run Google Ads campaigns with your contact or other details.
Line out your business goals and pick the priority and relevant ones. For instance, for an e-commerce firm, product sales will be the objective. After finalization, calculate your budget and compare it with company resources. All these practices will help you outline the whole process of running a Google Ads campaign.
In addition to goals and resource allocation, you will also have to create a Pay-Per-Click (PPC) strategy aligned with your business goals to run smooth and budget-friendly campaigns.
Google ads bring traffic, but poor UI/UX interface can result in drop-ff. Therefore, ensure that your website has convincing content with optimized speed and end user-friendly design.
5 Easy Steps for Google Ads Account Creation
Creating a Google Ads Account is not as complex as it may sound. The process is simple and takes five steps to start running campaigns. Follow the steps mentioned below and expand your business to a global audience:
STEP 1: Sign Up for a Google Ads Account
The first step before creating an ads account on Google, create a Gmail account. You can use your personal Gmail account but it is preferable to have a business Gmail account for running ads on a Google Ads account. If you don't have a Google account, go to accounts.google.com, click create an account and select 'to manage a business'. After this, fill in your information and move towards Google Ads account creation.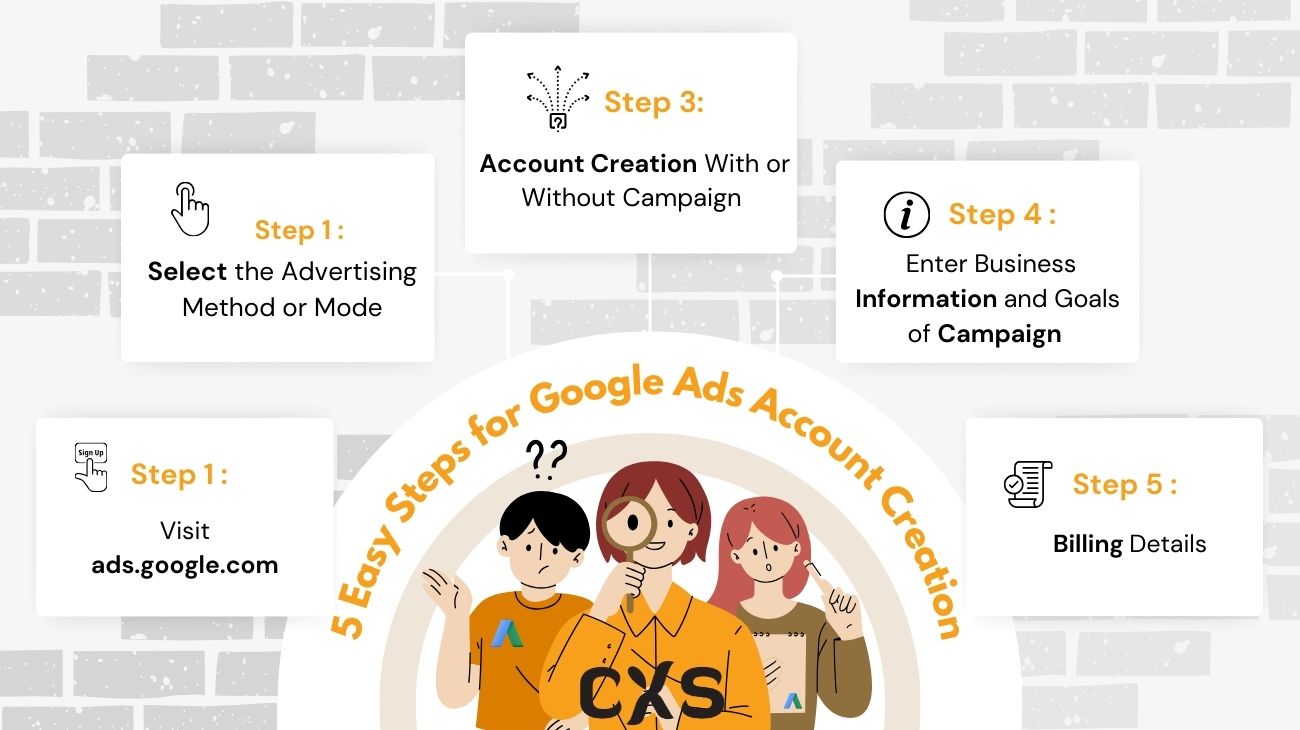 Step 2: Select the Advertising Method or Mode
After creating a Gmail account, go to https://ads.google.com/ and sign in with your business or personal Gmail account. A screen prompt will appear as to what is the main goal of your advertising, and select options that apply to your business and its niche.
Now you will see three different options below the advertising goal question, you must select the most relevant one:
Get more clicks and sign-ups on your website
Get more calls
Get more visits and customers for an on-site physical store
Choose the desired option and tick the relevant box. After this step, you will see two different options for Google Ad Campaigns:
Smart Campaign:
It is the simplest form of Google Ads campaign that allows advertisers to work smartly. They just need to set goals, budgets, and business targets and the system will take care of the rest. It requires less manual effort as well as lightweight maintenance. Hence, a smart campaign is relatively smarter because it provides owners with real-time management and monitoring at cheap rates.
Expert Mode:
It is the professional setup of a Google Ads campaign providing all the advanced features of the campaign, including keyword match types selection, bidding options, visual selection, and much more. Expert mode is for professionals and helps them tailor every step per their business and client base needs.  
Step 3: Google Ads Account Creation Without Campaign Option
Google gives its users the freedom to create AdWords accounts even if they do not want to run a campaign. They use the account for the following purposes:
Promotion and Sales
Increasing Brand Reach
Generating Business Reputation
Lead Generation
Maintaining Website Traffic
You can create a no-campaign account from the same website where you set up the other account. Furthermore, you can use this same account for future campaigns without any additional steps.
Step 4: Information about the Account
After completing the three main steps, the fourth step is about filling in the billing information. The data you will enter will remain unchanged because once you fill in and approve the details, they become permanent. Moreover, enter the right time zone as well as billing currency to avoid any ambiguity and errors. The information required for this step is as follows:
Country
Time Zone
Currency
Step 5: Billing Details
In the last step of how to set up a Google Ads account, choose your billing method and fill in your complete payment details. Following is the information required to complete the billing process:
Account Type, Business or personal (if you are associated with any specific organization, it is recommended to mention it)
Purpose of creating the account
Card and bank account information
Zip code of the city
Do's and Dont's of Running Google AdWords
As evident from the previous steps, setting up a Google Ads account is an easy process but carelessness during creating and running ads can lead to errors and long-term delays in results. This disclaimer is for both beginners and professionals alike, as anyone can make mistakes.
Considering this risk, we have outlined some of the dos and don'ts you should consider while running a Google Ads.
Properly Select Keywords
Your Google Ads keywords should not be random or just trending ones. Do research for the relevant keywords that will help your business rank among search results and during campaigns. Your keyword selection directly influences the traffic and brand positioning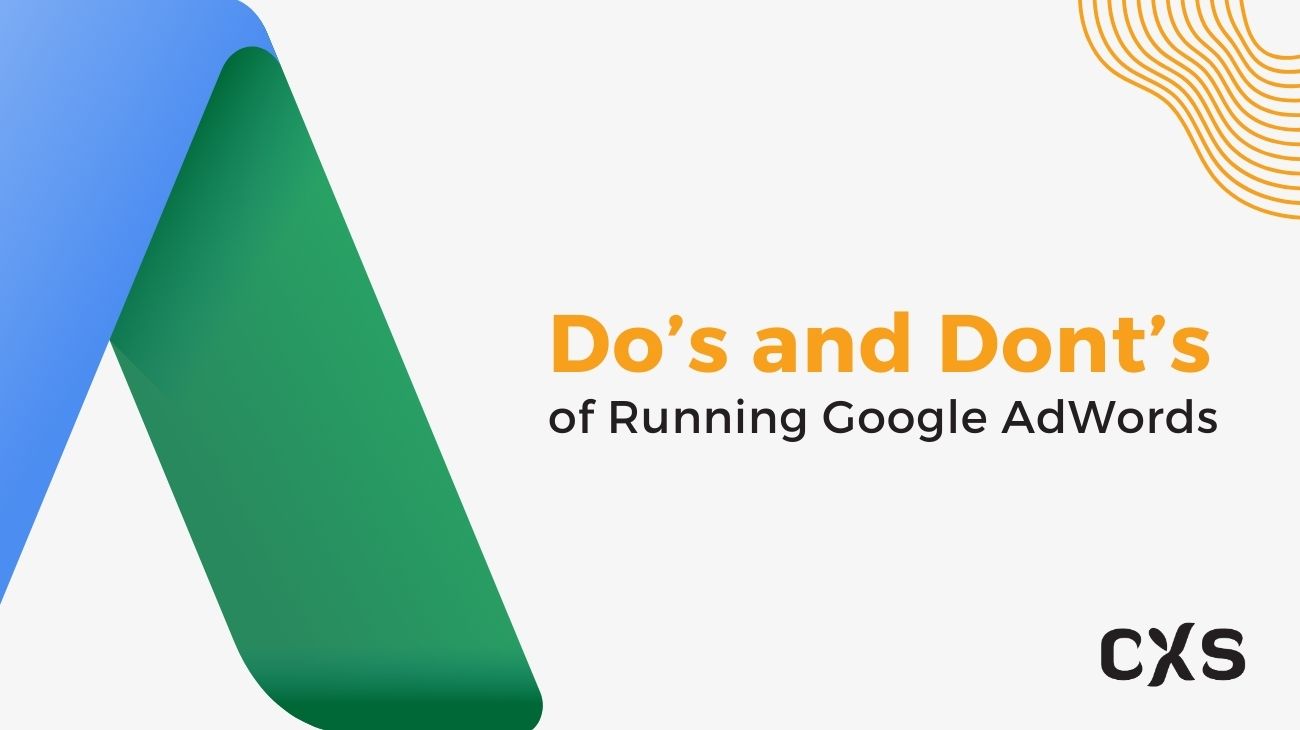 Focus on Quality
Focus on the choice of words in your content to make it more relevant and drive more leads. The more attractive and user-friendly the content, the more traffic it will drive.
Versatility in Ads
Google has a lot of choices to display your ads in different patterns and formats. Make sure to try all the formats and run your ad in all the types. Test all of them and monitor the audience's responses. After a critical analysis, save the best-performing one for future campaigns.
Visuals and Animations
As the trend of marketing is massively shifting to a more visual and less text approach, including a video, animation, or other such attractive displays can elevate user engagement. It genuinely makes your audience attracted to your work. Do upload your achievements on your website and link them with your ads to make it more interactive and engaging for the audience.
Never Forget to Track Results
After running an ad campaign on your Google Ads account, don't forget to check your outcomes and results daily. Track the results and make appropriate strategies to increase lead conversion and drive. Check the keywords and content driving more traffic to your website and then run it more often.
Don't Add Multiple Keywords Together
Some of the Google Ads runners add multiple keywords together and that's where they make a huge mistake as it detracts your traffic and results in ambiguity. Research for search queries and your customers' preferences to finalize your targetted keywords. 
Don't Choose Default Settings
Never select the already existing default settings of Google as it is designed on a general basis not according to your ad requirement. Finalize the settings according to your ad requirements.
Concluding Remarks
People all around the world consult the internet, especially Google, as a search engine to get information and recommendations about anything, making it the catalyst for business growth and success. Furthermore, it offers different ways to company owners, such as Ads, campaigns, search engine ranking, and much more to increase brand awareness and lead generation.
Google Ads is one of the best and easiest ways to run short-term and long-term ad campaigns without involving any third party. It helps businesses improve their brand worth across different regions in a cost-effective, result-driven, and efficient way. Hence, making a proper strategy and plan to run a Google Ad campaign can shift the business paradigm to unlimited ways of success.
Choose CyberX Studio to Unveil Exceptional Business Success
At CyberX Studio, we are committed to helping businesses improve not only their awareness and worth among global audiences but also lead generation. Our marketing experts understand your organization's goals, customer requirements, and budget. Later they design a Google Ads strategy to align with your lead conversion goals. 
Contact Our Experts Today and See the Results Yourself.
Also Read: A Comprehensive Guide to Monetize Your Website: Clicks to Profit

FAQs
How Can I have a Google Ads account without a Campaign?
Yes, there is a way to create a Google Ads account without a campaign. First, go to ads.google.com and select Start Now. Select your Gmail account (personal or professional), and click '+New Google Ads Account'. After selecting this option you will see a prompt screen with the heading 'What's Your Main Advertising Goal?'. In this screen at the left bottom side, you will see a 'Are you a professional marketer? Switch to Expert Mode. Select this option and the page will redirect you to the 'Choose Your Objective' page. Here, in the lower left corner, select 'Create an account without a campaign'. Add and submit your billing details and complete the account creation process.
How can I create a Google Ads account?
There are very few easy steps to create a Google Ads account which are as follows:
Go to ads.google.com website.
Click the sign-in option if you already have a Google account (if not, make a Google account first).
Follow the steps and provide all the required information correctly, as it will not be changed later.
Choose your business goals and campaign objective to help Google release the relevant algorithm and generate leads. 
Enter account, bank, and credit/debit card details and your area code for a smooth payment processing method.
Your Google account is all set to run an ad campaign and marketing purposes.
(Feed every information and credential carefully, firstly because you can not change it later; secondly, it will detract your audience.)

Can I Create a Google Ads Account without a website? 
Yes, it is easy to create a Google ads account without a website. But you must have some other references, like a Google listing or landing page, for the genuineness and authenticity of your business. Furthermore, you can create a local page with a business profile, and for an ads campaign, choose the Smart Campaign option.