WhatsApp is the most popular social media platform for online interaction. It is widely accessible in more than 180 countries and 60 different languages. Whether it's a personal chat with friends, a video call with family members, or professional communication with an associate, WhatsApp has something for everyone. Meta provides a WhatsApp personal app for informal engagements and a WhatsApp Business app for formal discussions, making your conversations clear and organized. Its end-to-end encrypted feature keeps your chats private and secret. And even WhatsApp doesn't have a gateway to your conversations. Communication via WhatsApp has become so convenient that it is displacing interaction via messaging on the phone. 
WhatsApp's New Update:

Screen Sharing During Video Calls
We have witnessed the transition of WhatsApp from chats to meetings. Meta's App keeps on upgrading its features to make it an easy-to-use application for its users. The new WhatsApp update is concentrated on the advancement of video potential through WhatsApp screen sharing. WhatsApp gives us the option to share screens during video calls, making it similar to meeting apps like Google Meet, Zoom, and Microsoft Teams.

By clicking on the share screen icon, WhatsApp users can now share their screen with every participant in the video call. In addition to this, now landscape mode can be utilized while video calling apart from portrait mode. This gives a better visual experience to the users, making it eye-friendly to view things on the mobile screen.
Tips
for Effective WhatsApp Meetings
In the realm of virtual collaboration,mastering the art of hosting successful WhatsApp meetings can greatly enhance your communication. From creating a meeting link to, here are some essential tips to ensure your meetings don't become prone to abruption and interruption yet they are well-organized, timely planned, and fully productive. 
How to do screen sharing on WhatsApp
If you have an account on WhatsApp, you can easily create a WhatsApp video link and share it with a single person or group. Up to 32 participants can be on the WhatsApp group voice call. Each time you create a link for sharing, the URL is not the same. It's different to keep it safe from intruders and scammers. Your call links are unique so your video calls are secure.
Both Android and iPhone users can generate the call link by following the steps given below:
Create and share link: 
On WhatsApp, click on the Tab "Calls".
At the top, you will see "Create Call Link". Tap on it.
Once the link for the call is created, you can select the call type which can be video or voice.
You can share this link using any one of the ways; "Send link via WhatsApp", "Copy Link", or "Share Link".
Ensure that you share this link with your entrusted people as anyone having the call link can become a participant by joining the call. Also, the users that are in blocked lists won't be able to connect via call link. If the link remains unused for almost 30 days, then it will expire. Remember, WhatsApp can cancel any call link if faced with any security or privacy concerns.
Add Participants
In an ongoing call, you can add a member to the meeting by either tapping on "Share Link" or "Add Participant".
Remove or Block Participants
During the call, if you want to remove any participants or block them, click on the name of the participant or their phone number, then Tap "Remove" or "Remove and Block".
The participant who will be removed, receive a notification of removal and won't be able to join the call again
Google Meet Vs. WhatsApp
WhatsApp which started as a social platform for chit-chat is now expanding and trying to pull in as many users as possible with its new updates that would bring ample convenience to the users. It has a 4.68 rating with 15432 reviews which is high compared to the video conferencing platform Google Meet which has a 4.7 rating with 11570 reviews. Both applications are impressively known for their key features, ease of usage, customer satisfaction, and effective money value. WhatsApp's new update has brought Google Meet and WhatsApp to a tug-of-war state where both are struggling to gain dominance in the customer landscape. The future will reveal which one of them wins user supremacy.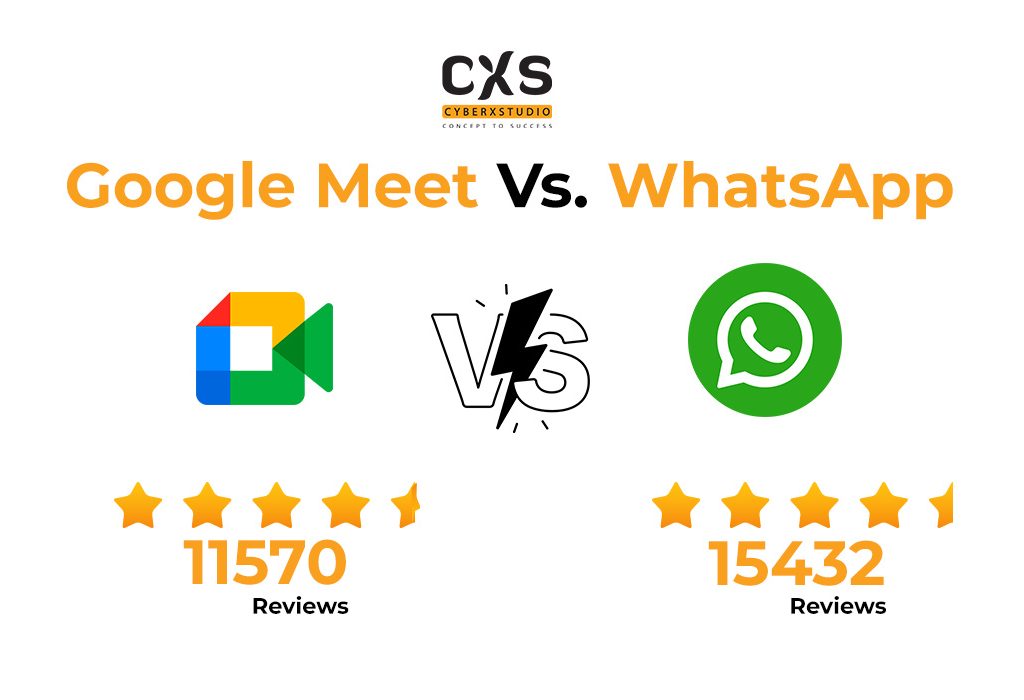 WhatsApp keeps on updating its features to make the app user-friendly. Its new update of screen sharing will bring comfort to individuals and business professionals who want to work effectively and efficiently in virtual setups. With every new feature unfolding, it is increasing opportunities for the expansion of the application. WhatsApp is evolving and growing its user base beyond its competitors making it one of the top communication platforms.
Frequently Asked Questions
CyberX Studio is a one-stop solution to all your  digital marketing problems. We transform your business's digital presence by rendering data-driven, timely and well-strategized services. Collaborate with us and let the magic begin!